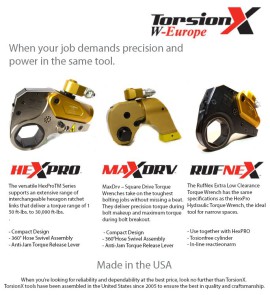 MaxDrv – Square Drive Torque Wrenches take on the toughest bolting jobs without missing a beat. They deliver precision torque during bolt makeup and maximum torque during bolt breakout. – Compact Design – 360°Hose Swivel Assembly – Anti-Jam Torque Release Lever
The versatile HexProTM Series supports an extensive range of interchangeable hexagon ratchet links that deliver a torque range of 1 50 ft-lbs. to 30,000 ft-lbs. . – Compact Design – 360° Hose Swivel Assembly – Anti-Jam Torque Release Lever
The RufNex Extra Low Clearance Torque Wrench has the same specications as the HexPro Hydraulic Torque Wrench, the ideal tool for narrow spaces. – Use together with HexPRO – Tosionfree cylinder – In-line reactieonarm When your job demands precision and power in the same tool.
Made in the USA When you're looking for reliability and dependability at the best price, look no further than TorsionX.
TorsionX tools have been assembled in the United States since 2005 to ensure the best in quality and craftsmanship.
www.TorsionX.be
Shutdown Fasteners and Specials Belgium (SFSB) BVBA
0032 (0) 3 345 24 02
info@TorsionX.be