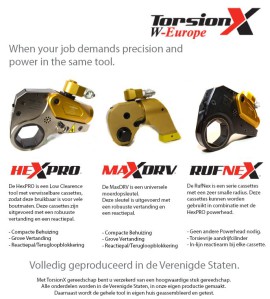 TorsionX
Uw Specialist in Boutverbindingen, compatibel met hytorc hydraulische momentsleutels
De MaxDRV is een universele moerdopsleutel. Deze sleutel is uitgevoerd met een robuuste vertanding en een reactiepal. – Compacte Behuizing – Grove Vertanding – Reactiepal/Terugloopblokkering
De HexPRO is een Low Clearence tool met verwisselbare cassettes, zodat deze bruikbaar is voor vele boutmaten. Deze cassettes zijn uitgevoerd met een robuuste vertanding en een reactiepal. – Compacte Behuizing – Grove Vertanding – Reactiepal/Terugloopblokkering
De RufNex is een serie cassettes met een zeer smalle radius. Deze cassettes kunnen worden gebruikt in combinatie met de HexPRO powerhead. – Geen andere Powerhead nodig. – Torsievrije aandrijfcilinder – In-lijn reactiearm bij elke cassette.
When your job demands precision and power in the same tool.
Volledig geproduceerd in de Verenigde Staten.
Met TorsionX gereedschap bent u verzekerd van een hoogwaardige stuk gereedschap.
Alle onderdelen worden in de Verenigde Staten, in onze eigen productie gemaakt.
Daarnaast wordt de gehele tool in eigen huis geassembleerd en getest.
www.TorsionX.be
Shutdown Fasteners and Specials Belgium (SFSB) BVBA
0032 (0) 3 345 24 02
info@TorsionX.be