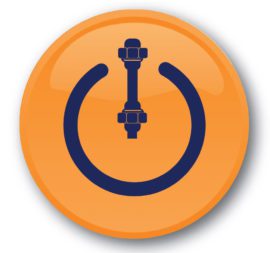 SFSB is your main partner (20 years of experience ) for all rush / short delivery fasteners (bolts, studs, nuts, stud bolts stud bolt studbolt studbolts) with material certificates EN 10204 3.1, according to drawing / specification, and in all materials. We service offshore, energy, petrochemical and heavy industry customers with their urgent requirements. Special parts can be delivered in matter of hours/days. Not comitted to some manufacturers so we will always find a solution to the problem. ASTM Studbolts, Turbine bolting, high temperature bolting, reduced shank bolting (DIN 2510 all types and to customer specification). Any diameter or length and any type of material : B7, L7, L43, B16, B7M, L7M, B8, B8CL2, B8M, B8MCL2, B8T and nuts in 2H, G3, G4, G7, G8, G8M, G8T ; Monel 400 and K500, Inconel / Alloy 601 / 625 / 825, Titanium (all types), Inconel, B8C, B5/3, B6/6, Duplex / Superduplex / UNS S 32760 / 32750 / 31803, Zeron 100, 1.4462, B22, B23CL2, B24, Uranus B6 (904L)...


Slepuri – constructie
Petrol – derivati grei
Birouri de studii industriale
metal lapping
Vane si supape
High-pressure valves
Arderea deseurilor – instalatii
Slepuri – constructie
Alarme – material de supraveghere
anti-slip mats
Autoclaves for research institutes
Automatizari – instalatii si echipamente
dredging
Dragare – antreprenori
Gestionarea deseurilor industriale
water treatment plant management
Fixare – materiale
internal grinding
external grinding
bioethanol
Bottom pressure vessels
Buloane produse dupa specificatii
Buloane
construction of industrial plants
construction of offshore oil drilling platforms
Incendii – materiale si instalatii de protectie
Tevarie industriala
Tuburi pneumatice – sisteme
Tevi si conducte
Tuburi si tevi din cauciuc si plastic
Incalzire centrala – instalatii
Chimie minerala – produse de baza si derivati
Compensatoare
Compresoare
design of special systems
Pipeline construction and installation
Materiale de constructii
Oteluri pentru constructii
Control si reglare – aparate si instrumente
Pompe submersibile
Strunjirea otelurilor si a metalelor
gas pressure regulators
Electricitate – componente si piese
Curent electric – productie si distributie
Electricidade – centrais
electricity
electric pumps
electricity distribution
Expeditori si consolidatori
Extrusion systems
torches
precision mechanical engineering
Aragazuri
Gaze naturale – productie si distributie
Gaze naturale si petrol – exploatare
Gaze comprimate si lichefiate
Unelte portabile cu motor
Masini-unelte – prelucrarea metalelor
Fonta bruta si fonta speciala
compressed gases wholesale
Porturi si servicii portuare
maritime services
high pressure pipes
High-pressure technology
high pressure fittings
Hidraulice – echipamente si instalatii
Import-export – oteluri si metale
Import-export – vehicule si materiale de transport
Import-export de gaz
Senzori inductivi
Intretinere industriala
Sistem de viziune industriala
industrial construction
industrial gas
Industrial pumps
Mutari de obiective industriale
industrial vision
Inginerie – birouri de studii industriale
Otel inoxidabil
plants and equipment for industrial waste
gas storage systems
wind systems
systems, machinery and equipment for the pharmaceutical industry
Cabluri – accesorii
Tinichgerie navala
Tinichigerie grea
Lanturi – accesorii
small aeronautic parts.
Climatizare, aerisire si ventilare – materiale
Plastic material – tubes and pipes
welding equipment
Robinetarie industriala
Industria aeronautica si aerospatiala – constructie
Aeronautica – echipamente
aeronautics
machine building
mouldings
Mecanica generala – cu materialele clientului
Masurarea si reglarea debitului si a fluxului – aparate si instrumente
Masurarea si reglarea presiunii – aparate si instrumente
Constructii metalice usoare
Constructii metalice grele
turbine meters
distribution of methane
Extractie miniera – utilaje si materiale
Servicii pentru exploatari miniere
Mediu inconjurator – servicii
Piulite
torque wrenches
Montarea si demontarea instalatiilor industriale
Assembly of steel constructions
Servicii de foraj marin
Constructii platforme maritime
Servicii în larg (offshore)
maintenance
Masini-unelte – prelucrarea metalelor
Lucrari de intretinere – firme
electrical panel design
Design and manufacture of all sorts of bridges
Design and manufacture of steel architectural structures
Design and manufacture of petrochemical plants
hvac design
offshore platform design
Hartie – colectare si reciclare
Perforarea otelurilor si a metalelor
Aer comprimat – instalatii si utilaje
Petrol – distributie
Combustibili petrolieri si aditivi
Pneumatice – instalatii si utilaje
Pipes and tubes, precision – ferrous meta
Colectare si reciclare – produse diverse
paper scrap recovery
Bridge renovation
Factory renovation
Building renovation
Repararea echipamentelor industriale
Stainless steel unions
Cauciuc si plastic – prelucrare
Cauciuc – produse
Nave – constructie
Naval engineering yard
Nave – constructie
Nave – aparate si echipamente
Nave – reparare si intretinere
Constructii navale
Suruburi
Taierea otelului si a metalelor
Special screw
Otel
Otel brut
Oteluri speciale
Siderurgie si metalurgie – import-export
Oteluri si metale – tratament de suprafata si imbracare
Oteluri si metale – prelucrare
construction, metal
Supplier of steel
steel dies
steam turbines
process control and industrial automation systems
pressure tanks
Rezervoare metalice
thermocouples
башенные краны для строительства
Краны-укосины
Transporturi exceptionale
Tunele – lucrari
equipment for the petrochemical industry
fall prevention system and equipment
Controlul securitatii in industrie
Valve de robinetarie industriala
anchorages
Motoare diesel
Motoare cu combustie interna – componente si piese
Mutari de obiective industriale
аренда новых и подержанных башенных кранов
Incalzire, climatizare – lucrari
heating methane
Motoare pentru avioane
incinerators and combustion plants with energy recovery
Schimbatoare de caldura
Apa – productie si distributie
water distribution
Poduri si sosele – antreprenori
Lucrari maritime, portuare si submarine