Lubo Lubrication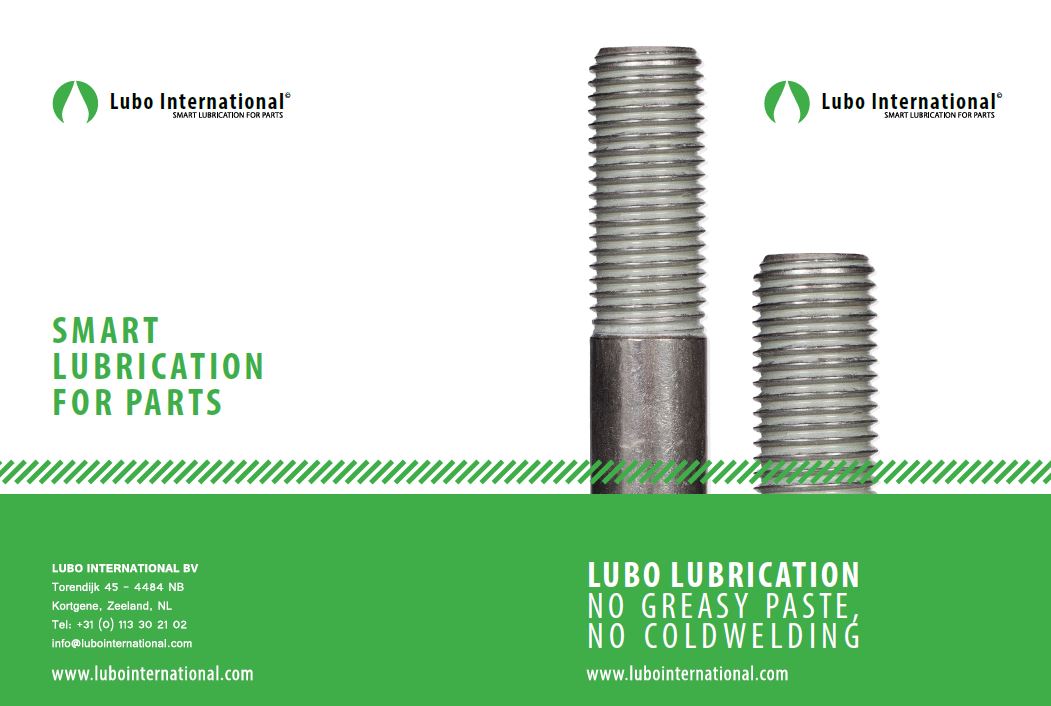 Lubo Lubricant , the ultimate
substitute for traditional
lubricants & paste
Applications
Main advantages Lubo Lubricant
Lubo Lubricant can be applied to every stainless steel fasteners.
Examples: bolts, threaded rods, hydraulic fixtures, etc. After Lubo Lubrication
is applied to threaded products it remains in a fixed, dry state. Upon friction
by fastening Lubo will melt and do it's lubrication work, afterwards it goes
back again into the fixed state it was in before.
These ready-for-use stainless steel fasteners can be used in food- and
pharmaceutical industry, offshore, maritime shipping and civil engineering.
Lubo lubrication is composed of natural raw material and
minerals and therefore harmless to the environment.
Composition
1. Lubo Lubricant will provide significant savings in cost and time:
• Treated products can be used directly out of it's packaging, no
post-treatments, other lubricants, pastes are required.
• During maintenance your products always can be unscrewed or
loosened: no galling will occur!
• High galling cost of repair is prevented completely: no drilling,
threading, polishing, etc anymore.
• Lubo Lubricant leaves it's fixed state only temporarily on the
exact fastening spot, so it's use is clean: no need for machine or
tool cleaning afterwards.
• No environmental unfriendly remains of lubricants, coatings to
hands, machines and tooling.
2. Lubo Lubricant it's composition does not include bestial fats
which limit the life time.
3. Lubo Lubricant is completely FDA compliant.
Product features
Lubo Lubrication
• Prevents coldwelding
• Harmless to the environment and
people
• Timesaving/ more efficient
• Low and constant coefficient of
friction (0,12)
• Clean to use
• Doesn't emanate in neutral state
• Slightly fixing
• Easy to disassemble
• Perfectly to use in combination with
all kind of fixing material
• After 1500 hours saltspraytest DIN 50 021
NSS, connection demountable
• Applicable from -120°C to +1400°C
• In accordance with ELV (2000/53/
EG): Free from Chrome, Cadmium,
Nickel, Lead, Mercury en Molybdeen
• Complies with the FDA 21 CFR 175.300
chapter (c) (4)
• Color: Silver
Complies with FDA
No galling,
No cleaning,
No repair .