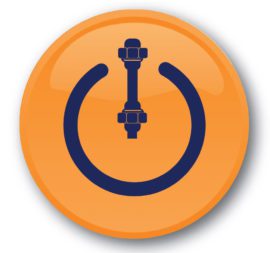 SFSB is your main partner (20 years of experience ) for all rush / short delivery fasteners (bolts, studs, nuts, stud bolts stud bolt studbolt studbolts) with material certificates EN 10204 3.1, according to drawing / specification, and in all materials. We service offshore, energy, petrochemical and heavy industry customers with their urgent requirements. Special parts can be delivered in matter of hours/days. Not comitted to some manufacturers so we will always find a solution to the problem. ASTM Studbolts, Turbine bolting, high temperature bolting, reduced shank bolting (DIN 2510 all types and to customer specification). Any diameter or length and any type of material : B7, L7, L43, B16, B7M, L7M, B8, B8CL2, B8M, B8MCL2, B8T and nuts in 2H, G3, G4, G7, G8, G8M, G8T ; Monel 400 and K500, Inconel / Alloy 601 / 625 / 825, Titanium (all types), Inconel, B8C, B5/3, B6/6, Duplex / Superduplex / UNS S 32760 / 32750 / 31803, Zeron 100, 1.4462, B22, B23CL2, B24, Uranus B6 (904L)...
Gass – installasjoner og utvinningsutstyr
Olje – tunge derivater
Tekniske kontorer – industri
metal lapping
Ventiler
High-pressure valves
Avfallsforbrenning – installasjoner
Lektere – bygging
Alarmer – overvåkingssystemer
anti-slip mats
Autoclaves for research institutes
Automatisering – installasjoner og utstyr
dredging
Mudring – entreprenører
Forvaltning av industrielt avfall
water treatment plant management
Festeutstyr
internal grinding
external grinding
bioethanol
Bottom pressure vessels
Bolter etter tegning
Bolter
construction of industrial plants
construction of offshore oil drilling platforms
Brann – verneutstyr og installasjoner
Industrirør
Trykkluftrør – systemer
Rør og slanger
Slanger og rør av gummi og plast
Sentralvarme – installasjoner
Uorganisk kjemi – råstoffer og derivater
Kompensatorer
Kompressorer
design of special systems
Pipeline construction and installation
Byggematerialer
Konstruksjonsstål
Kontroll og regulering – apparater og instrumenter
Nedsenkbare pumper
Sliping av stål og metaller
gas pressure regulators
Elektriske komponenter og deler
Elektrisitet – produksjon og distribusjon
Strømaggregat
electricity
electric pumps
electricity distribution
Ekspeditører og konsolidatorer
Extrusion systems
torches
precision mechanical engineering
Komfyrer
Gass – produksjon og distribusjon
Gass og olje – utvinning
Komprimert og flytende gass
Bærbart verktøy med motor
Maskinverktøy – maskinell bearbeiding av metaller
Råjern og spesialråjern
compressed gases wholesale
Havner og havnetjenster
maritime services
high pressure pipes
High-pressure technology
high pressure fittings
Vannkraft – utstyr og installasjoner
Import/eksport – stål og metaller
Import/eksport – kjøretøy og transportutstyr
Import/eksport av gass
induktive sensorer
Industrielt vedlikehold
Industrielt visjonssystem
industrial construction
industrial gas
Industrial pumps
Flytting – industriell
industrial vision
Mérnöki munka – ipari tervezőirodák
Rustfritt stål
systems and equipment for oil refineries
plants and equipment for industrial waste
gas storage systems
wind systems
systems, machinery and equipment for the pharmaceutical industry
Kabler – tilbehør
Kjeleproduksjon – skip
Kjeleproduksjon – industri
Kjeder – tilbehør
small aeronautic parts.
Luftkondisjonering, lufting og ventilering – utstyr
Plastic material – tubes and pipes
welding equipment
Armaturer til industrielle formål
Luftfart og romfart – bygging
Luftfartsindustrien – utstyr
aeronautics
machine building
mouldings
Generell mekanikk – bestillingsarbeid
Måleinstrumenter og apparater – regulering av ytelse og strøm
Måling og kontroll av trykk – apparater og instrumenter
Lettmetallkonstruksjon
Tungmetallkonstruksjon
turbine meters
distribution of methane
Gruvearbeid – maskiner og utstyr
Tjenester til gruvedrift
Miljø – tjenester
Muttere
torque wrenches
Montering og demontering av industrielle anlegg
Assembly of steel constructions
Boring offshore
Konstruksjon – offshore
Offshore-aktiviteter
maintenance
Maskinverktøy – maskinell bearbeiding av metaller
Vedlikeholdsarbeid – entreprenører
electrical panel design
Design and manufacture of all sorts of bridges
Design and manufacture of steel architectural structures
Design and manufacture of petrochemical plants
hvac design
offshore platform design
Papir – innsamling og gjenvinning
Perforering av stål og metaller
Komprimert luft – installasjoner og verktøy
Olje – distribusjon
Petroleumsbrensel og tilsetningsstoffer
Trykkluft – installasjoner og verktøy
Pipes and tubes, precision – ferrous metal
Innsamling og gjenvinning av diverse produkter
paper scrap recovery
Bridge renovation
Factory renovation
Building renovation
Reparasjon av industrielt utstyr
Stainless steel unions
Gummi og plast – bearbeiding
Gummi – produkter
Skip – bygging
Naval engineering yard
Skipsverft – bygging
Skipsverft – reparasjon og vedlikehold
Skip – apparater og utstyr
Skip – reparasjon og vedlikehold
Skipsbygging
Skruer
Tilskjæring av stål og metaller
Special screw
Stål
Råstål
Spesialstål
Jern- og stålindustri og produksjon av metaller – import/eksport
Stål og metaller – overflatebehandling og -belegging
Stål og metaller – maskinell bearbeiding
construction, metal
Supplier of steel
steel dies
steam turbines
process control and industrial automation systems
pressure tanks
Reservoarer av metall
thermocouples
tower cranes for construction
Løftearmer
Transport – ekstraordinær
Tunneler – arbeid
equipment for the petrochemical industry
fall prevention system and equipment
Kontroll av industrisikkerhet
Armaturventiler til industrielle formål
anchorages
Dieselmotor
Forbrenningsmotor – komponenter og deler
Flytting – industriell
new and used tower crane rental
Varme, luftkondisjonering – arbeid
heating methane
Flymotorer
incinerators and combustion plants with energy recovery
Varmevekslere
Vann – produksjon og distribusjon
water distribution
Ingeniørarbeid – entreprenører
Maritimt arbeid, havne- og undervannsarbeid